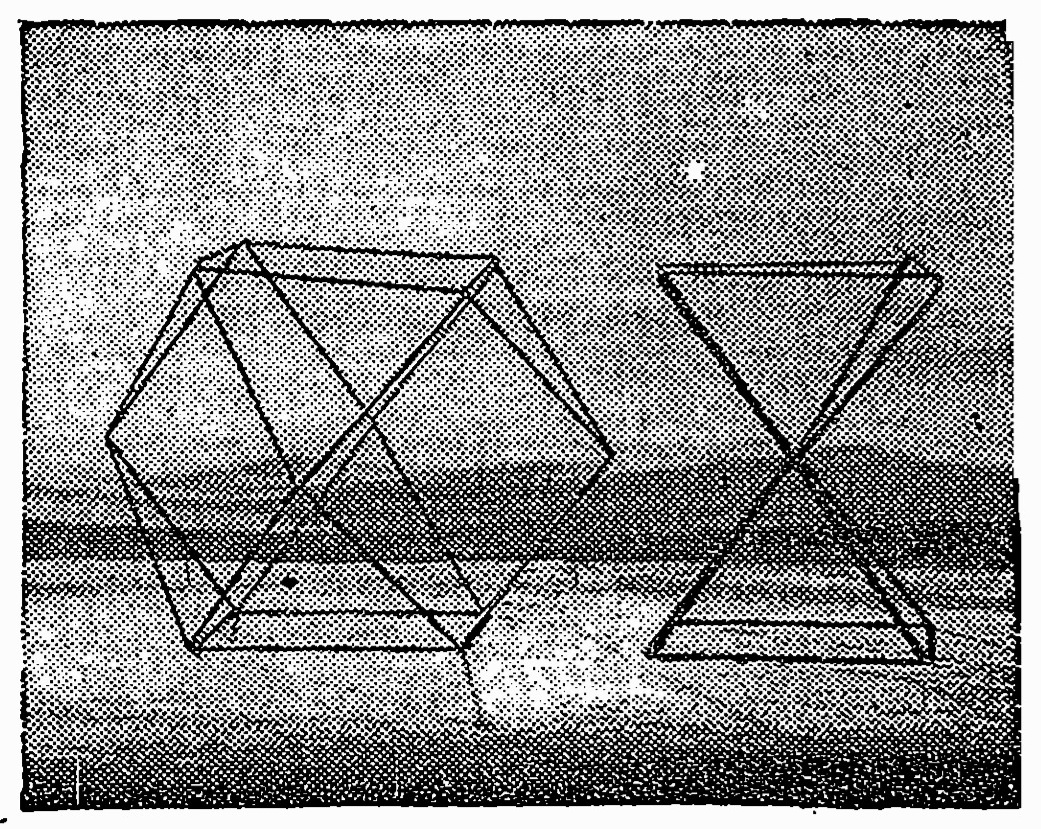 Synergetics was Buckminster Fuller's attempt to bridge science and the humanities. Fuller employed many forms of communication to teach synergetics. He was the author or subject of dozens of books and hundreds of essays. He was a tireless public speaker, lecturing before hundreds of thousands in over one hundred globe-circling tours. Less known than these means of communication, Buckminster Fuller also used puppetry to teach synergetics through a long association with his friend and professional puppeteer Bil Baird (15 August 1904 - 18 March 1987). Baird and Fuller crossed paths several times, and are known to have collaborated in several ways.
Baird's troupe, The Baird Marionettes, was formed in the early 1930s and gave their first performance at the 1933 Chicago World's Fair. Fuller was also at the 1933 Chicago World's Fair, exhibiting the Dymaxion Car. Their paths may have crossed again at the 1964/65 New York World's Fair where the Baird Marionettes were performing The Show-Go-Round at the Chrysler Pavilion. Fuller was also in New York City at the time, making television and radio appearances in July, August, September and November of 1964 and in July of 1965. Fuller was in New York City again in October 1965 to attended an opening at the Museum of Modern Art.
The Baird Marionettes performed in the 1951 Broadway musical Flahooley. Flahooley is about a mass-produced doll who threatens the industrial system. Fuller presented himself as Bucky, an advocate of mass production who threatened the industrial system.
Another connection between Fuller and Baird was Evelyn Schwartz. Fuller had an affair with Schwartz in 1927. Schwartz later joined the Baird troupe and married Bil Baird in 1932. After Baird and Schwartz divorced, Schwartz married Vilhjalmur Stefansson. Schwartz and Baird first met Stefansson at Romany Marie's, a restaurant where Fuller gave weekly 'thinking out loud' lectures in exchange for food. Fuller had exhibited the Dymaxion House at Romany Marie's, using nude female dolls as a way to draw attention to his ideas.
The preceding are all incidental connections between Baird and Fuller, but more concrete connections exist. In 1955 Fuller designed and built what the New York Times called "an abstraction […] two metal frames that dance enchantingly" for the Baird Marionette troupe. What the times was referring to was a cuboctahedron performing what Fuller called the Jitterbug Transformation. These puppets were used by the Baird Marionettes in 1958 for Adventures in Number + Space, the first time Fuller's Jitterbug Transformation appeared on television. Adventures in Number + Space appeared on the Westinghouse Broadcasting Company network in the late 1950s. The television program taught mathematics through puppetry. The illustration above is an uncredited photograph of the Fuller puppets from an advertisement for Adventures in Number + Space that appeared in the New York Times.
Fuller made puppets for the Bairds. He was also made a puppet by the Bairds. The thousands of marionettes made by Baird's troupe included a Bucky Fuller marionette. The Baird marionettes were sold at auction in 1967. This presumably included the Fuller marionette. Its location is currently unknown.
- Trevor Blake
Trevor Blake is the author of the Buckminster Fuller Bibliography, available at synchronofile.com
Reference
Atkinson, Brooks: Bairds' Marionettes, The. New York Times, 27 December 1955, p. 29. New York, NY USA.
Blake, Trevor: Buckminster Fuller Bibliography. synchronofile.com, Portland 2008.
Gargle Came in the Nick of Time. New York Times, 6 March 1958, p. 28. New York, NY USA.
Wikipedia: Bil Baird. http://en.wikipedia.org/wiki/Bil_Baird
Wikipedia: Romany Marie. http://en.wikipedia.org/wiki/Romany_Marie
Wikipedia: Vilhjalmur Stefansson. http://en.wikipedia.org/wiki/Vilhjalmur_Stefansson
---
---