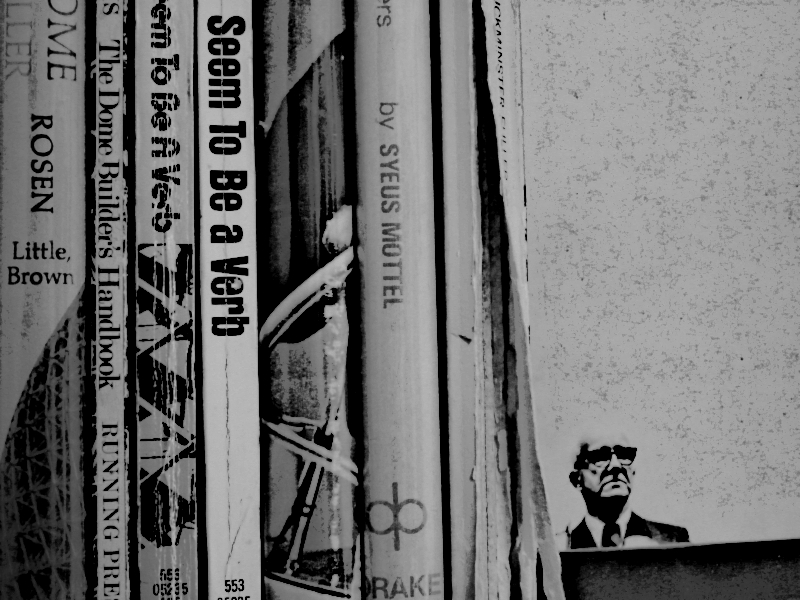 Among the many uncollected works of Buckminster Fuller are his book blurbs.  There was a time when Fuller's social credit was such that an advertiser would use his words to promote anything from books on architecture to non-fiction to novels.  Here are some examples of book and magazine blurbs by R. Buckminster Fuller. - Trevor Blake
Architects on Architecture by Paul Heyer. "Your beautiful book is magnificently done." New York Times 26 February 1967.  Paul Heyer is an architectural critic and author.
Future Shock by Alvin Toffler.  "Cogent… brilliant… I hope vast numbers will read Toffler's book."  Made into a film narrated by Orson Wells.  New York Times 5 January 29 and 31 August 1970.  Alvin Toffler, like Fuller, was associated with Fortune magazine.  Toffler is the author of The Third Wave and other books on futurist themes.
Watership Down by Richard Adams.  "One of those great ones that every once in a while lets us know that the universe has something really mysteriously great 'going' for humanity."  Watership Down was made into film and a television series.  New York Times 26 February 1974.
Naked is the Best Disguise by Samuel Rosenberg.   The author "may overwhelm you.  His tapestry is beautiful.  It is incredibly logical.  I love it."  New York Times 16 and 20 June 1974.  Rosenberg suggests that author Sir A. C. Doyle revealed his personal thoughts through his character Sherlock Holmes.
The New Yorker Magazine.  "I first came to Philadelphia in the navy, during World War I.  I was the commander of a small craft and was ordered to dock at the foot of Market Street.  It happened to be Halloween.  Not knowing how Philadelphia behaves on Halloween, I was astonished to find the whole evening I was kissed by beautiful girls.  They still have this wonderful community spirit here in Philadelphia."  New York Times 24 October 1974.  The New Yorker is a magazine founded in the 1920s.
The Urban Predicament by William Gorman and Nathan Glazer. "I am in full agreement with you regarding the predicament… and I am all for the logical amplification of concern so effectively accomplished by your book."  New York Times 13 June 1976.  A publication of the Urban Institute, founded in 1968.
The Human Cougar by Lloyd L. Morain. "… a warm, vivid appreciation of… a disappearing species… maligned by the masters of money and politics… " New York Times 21 November 1976. Morain is also the author of the book Humanism As the Next Step.
Others Including Morstive Sternbump by Marvin Cohen.  "This book appeals to me so much that I do not want to make any careless quickie remarks.  Morstive Sternbump's philosophy is congruent with my own."  New York Times 12 December 1976.
The Clam Lake Papers by Edward Lueders.  "So spontaneously of interest that despite the priorities, we find ourselves stealing time that belongs to our committed responsibilities.  The Clam Lake Papers… certainly are for me." New York Times 27 November 1977.  Lueders is also the author of Writing Natural History.
The Cousteau Almanac by Jaques-Yves Cousteau.  "The Cousteau Almanac is must reading for all those committed to the successful continuance of humankind in the Universe."  New York Times 25 October 1981.  Cousteau was the inventor of the self-contained underwater breathing apparatus, SCUBA.
Mankind in Amnesia by Immanuel Velikovsky.  "Mankind in Amnesia is an extraordinarily important book, beautifully researched and devastatingly true."  New York Times 11 April 1982.  Velikovsky was the founder of what has been called catastrophism, or the interpretation of ancient stories of world catastrophes as literal descriptions of past events.
- Trevor Blake
Trevor Blake is the author of the Buckminster Fuller Bibliography, available at synchronofile.com
---
---