From The Buckminster Fuller Institute: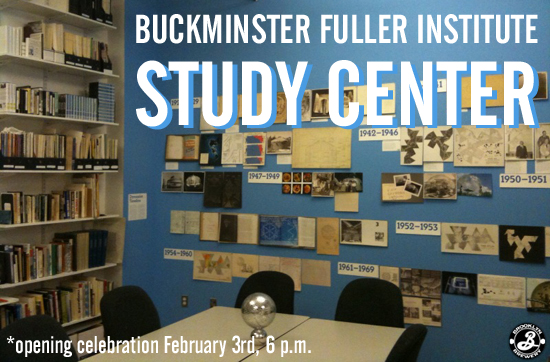 Throughout the past six months BFI volunteers have worked to redesign our office space in Brooklyn, NY and install a BFI Study Center, open to the public. The center includes rare and out of print books, articles, magazines, photographs, posters, videos, and various artifacts by and about Buckminster Fuller's life, work, and ideas.

The center also contains the installation of the Dymaxion Timeline, a curated collection of images from the Estate of R. Buckminster Fuller, and the Department of Special Collections and University Archives, Stanford University Libraries, M1090 R. Buckminster Fuller Collection. Organized by Bonnie DeVarco, Shoji Sadao and Beth Stryker, graphic design by Project Projects. The Timeline was presented previously at the Center for Architecture NY (2008) and the Museum of Contemporary Art Chicago (2009) in the context of the Dymaxion Study Center (curated by Beth Stryker, organized by the AIA New York Chapter and the Center for Architecture Foundation in association with the Buckminster Fuller Institute).

The Study Center will be open to the public during set hours and by appointment following the official opening party:

February 3rd, 2010 6-8 p.m.
The Buckminster Fuller Institute
181 N 11th Street, #402
Brooklyn, NY 11211

Much thanks to Ben Loeffler and Stephen Martin for their help.
Beverages for the opening provided by Brooklyn Brewery.
- Trevor Blake
Trevor Blake is the author of the Buckminster Fuller Bibliography, available at synchronofile.com
---
---